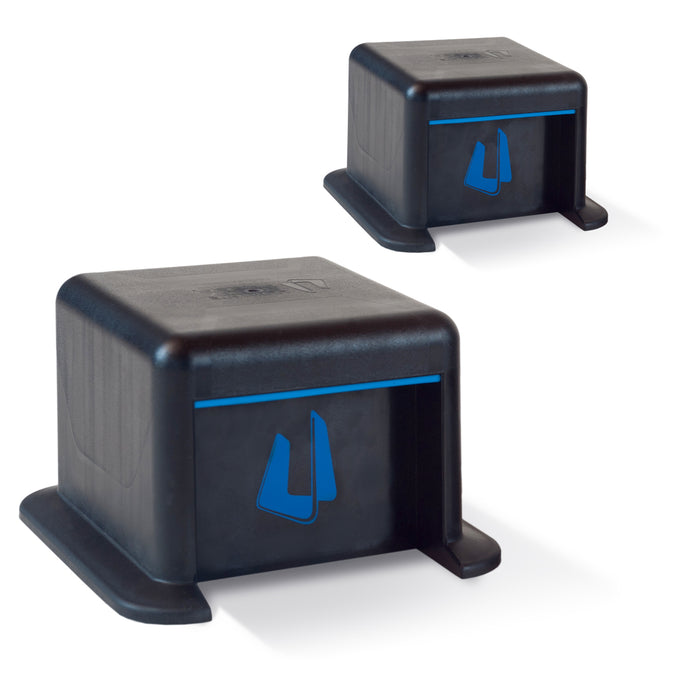 Push Up Block Stands with Three Grip Positions
Save

$24.00
Save

$24.00
Original price
$53.99
-
Original price
$53.99
Ships in 1-2 Business Days
New Push Up Block Stands
Push ups are a top compound bodyweight exercise that amps metabolism and rapidly builds large muscles and stabilizer muscles across the chest, arms, back and core. Push ups are a fitness mainstay but what if they could be better?

Ground push ups limit clearance and require extra flexibility in the hands and wrists causing additional strain on your forearms, elbows and shoulders. While push up bars increase clearance, the bar grip requires added hand flexion and focuses pressure onto a small contact area decreasing comfort and increasing strain. Unlike bar-style push up stands, push up blocks support a relaxed, flat palm position with fingers extended over and down the side of a raised surface to relieve strain up the kinetic chain from your wrists to the shoulders. Less strain increases comfort and rep counts while the elevated position enables a greater range of motion.

Ultimate Body Press Push Up Blocks are designed to improve your results anywhere you want to workout. At the gym, at home, work, and while traveling. Multiple grip options with a flat face and two recessed finger ledge depths let you find the perfect position to suit your preference and hand size. For extra stability, the finger ledges are a custom fit that keep your palms flat and relaxed and the high strength, square body of the blocks feature a textured grain that help keep your hands planted as your intensity builds. Push Up Blocks stay put through an increased range of motion with a wide extended base and integrated non-slip padded feet. The same high density padding in the feet are molded into the finger ledges for better grip.

We build the gear we want for our workouts and we believe you'll enjoy the results as much as we do. Just like our dip stations, pull up bars, and bodyweight resistance trainers, we back everything we make with a 100% satisfaction guarantee and USA tech support. Order your Ultimate Body Press Push Up Blocks and start building the results you want today.
Details
Flat palms and relaxed hands reduce stain up the kinetic chain from wrists to shoulders
Raised block increases range of motion
Flat face and finger ledges in 2 depths allow for 3 grip positions
Molded inserts under the finger ledges provide tactile feedback on your grip
Extra-wide non-skid base is ultra-stable on all surfaces
Push Up Blocks are backed with our 100% satisfaction guarantee
Manual