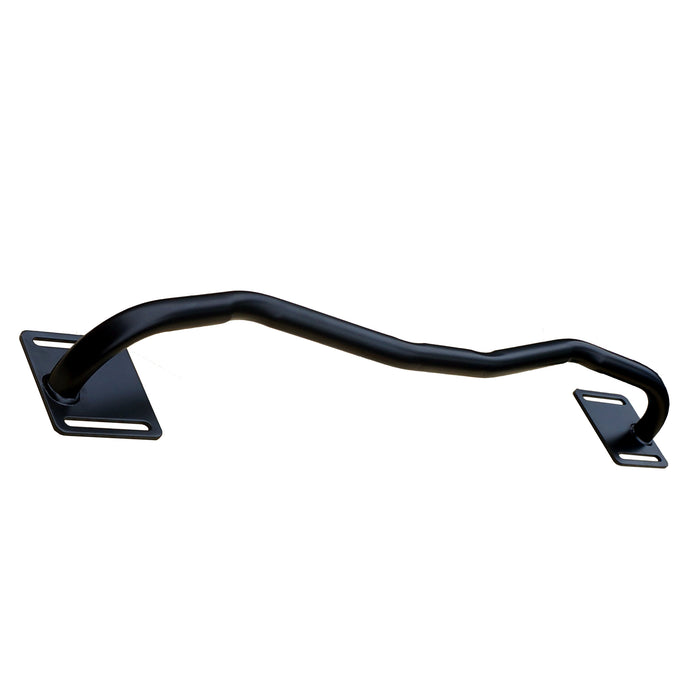 Wall Mounted Doorway Ergonomic and Classic Straight Pull Up Bars
Save

$0.00
Save

$-69.95
Original price
$59.95
-
Original price
$69.95
Ships in 1-2 Business Days
Pull up exercises are real strength training in compound movements that activate the metabolism and build functional muscle across the shoulders, arms, back and core. Ultimate Body Press Mounted Doorway Bars are tailored to suit your workouts with the choice of a curved ergonomic bar or a classic straight bar. The ergonomic bar reduces strain for deep results in the 3 primary grip positions for chin ups, pull ups and wide grip pull ups. The straight bar lets you place your hands where you like to tailor your targeting with unlimited variation.
The Wall Mount Doorway Pull Up Bars are the Ultimate Body Press innovation that makes maximum use of your doorway opening as a rigid structural mounting point with full range of motion built right in. Fully welded, all steel construction and thick contoured bars with knurled steel texture provide the comfort, stability and confidence you need to focus on form and reps so you can get the results you want in less time.
The Wall Mount Doorway Pull Up Bars were originally conceived as an easy step into owning a mounted pull up bar. Owners have told us that it is much more then an entry level bar, the mounted doorways bars have proven to be a leading value in home fitness that is rewarding to workout on, inspires intense training, and can be installed out of view in larger closets and other small spaces so there's zero impact on your décor.
We are proud to serve your gym needs and want to exceed your expectations for customer service. Customer service has complete resources to assist you and is available by phone or email. Your satisfaction is assured, order your Wall Mount Doorway Pull Up Bar today. 
Details
THE MOUNTED DOORWAY BARS: The Wall Mount Doorway Pull Up Bars are the Ultimate Body Press innovation that combines the space saving versatility of a doorway bar and the rigid performance of a mounted bar for incredible full range of motion workouts

TAILORED FIT: Order your Mounted Doorway bar with a classic straight bar or curved ergonomic bar for workouts tailored to you. Ergonomic bar reduces strain for long workouts and deep results. Straight bar lets you place you hands with unlimited variation

ALL WELDED STEEL: A rigid bar supports focus on form so you can increase results with chin ups, pull ups, and wide-grip pull ups. Thick 1.25" tubing stands a full 4.25" off the wall. Ergonomic and Straight bars are knurled for a positive, low-strain grip

EASY INSTALLATION: The Wall Mount Doorway Pull Up Bars are precision engineered for easy home installation with clean look. Bars include assembly instructions, complete hardware, and USA tech support. Minimum required opening: 38 inches.

IDEAL ANCHOR: Anchor optional Ab Straps and Gymnastic Rings to turn your pull up bar into a full bodyweight gym. Complete full sets of pull ups and other challenging exercises right from day one with assisted exercise variations. [sold separately]

SHOP WITH CONFIDENCE: Ultimate Body Press is a North Carolina company committed to delivering better workouts every day. The Wall Mount Doorway Pull Up Bars are backed by Ultimate Body Press against manufacturer's defects for 10 years. 
Manual