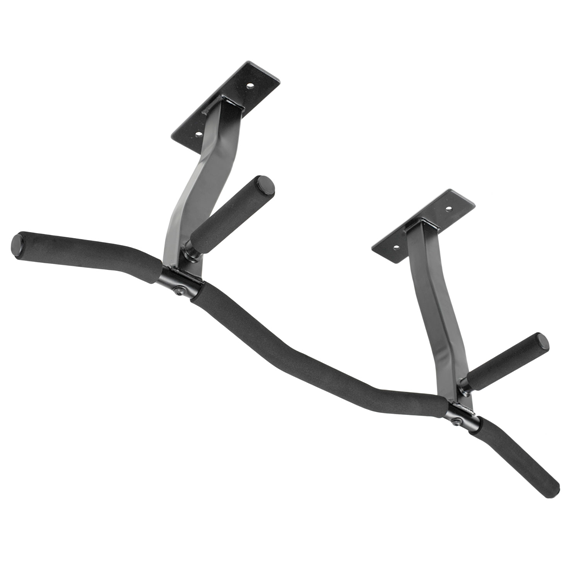 Ceiling Mounted Pull Up Bar with Patented Reversible Risers for 16 and 24 Inch Joists
Save

$0.00
Save

$-89.95
Original price
$89.95
-
Original price
$89.95
Ships in 1-2 Business Days
The New Ceiling Mount Ergonomic Pull Up Bar
The new patent pending Ceiling Pull Up Bar by Ultimate Body Press fits 16" and 24" joists and is ergonomically designed to reduce strain and increase gains during your workouts. Featuring ideal 20" spacing on the parallel grips and angled bars for a more natural grip position, the Ceiling Mount Bar delivers better workouts everyday.
Pull-up bar, Parallel grips, Mounting hardware, and Installation Instructions
Ergonomic Designed Bar
Mounts to 16" or 24" Joists Measured On Center
Durable Powdercoat Finish
All Steel Construction
Ceiling Mount:
Bolted to the structure of your home, the Ceiling Mount Pull Up offers confidence inspiring stability and a solid anchor for accessories. Our exclusive reversible dual position risers mean you can mount this pull up bar almost anywhere without taking up valuable floor space in your home.
The Ergonomic Bar:

The Ceiling Pull Up Bar by Ultimate Body Press features grip angles previously only available on commercial gym equipment. By providing a more natural hand position during chin ups, parallel grip and wide grip pull ups the finely tuned angled grips help you avoid over articulation of the shoulders and reduce strain on your wrists and elbows.
The 20" Spaced Parallel Grips:
Parallel grip pull ups target the three large muscle groups in the back - the lats, rhomboids and traps. Comfortably spaced at 20", the parallel grips are a great fit for just about every build.
Performance Dimensions:
This Ceiling Pull Up Bar features our latest innovation - Dual Position Risers. Whether you are installing below floor joists spaced 16" on-center or ceiling joists with 24" on-center spacing, the patent pending reversible Dual Position Risers adjust to fit your application. The bars drop 14" from your ceiling providing plenty of headroom and a full range of motion. Order your ceiling bar with the confidence of knowing it fits your gym placement now and in the future. As with all Ultimate Body Press products, your satisfaction is guaranteed.
Order Now and Save:

Upgrade your home gym with the new ceiling mount bar - all Ultimate Body Press orders over $50 ship free. The workouts are great, the results are even better.
Details
Pull-up bar, Parallel grips, Mounting hardware, and Installation Instructions
Ergonomic Designed Bar
Mounts to 16" or 24" Joists Measured On Center
Durable Powdercoat Finish
All Steel Construction
High Density Foam Grips
20" Parallel Grip Spacing
3 Dedicated Grip Positions
14" Riser Height
Shipping Weight: 15Lbs
Weight Capacity: 300LBs
Shipping Dimensions: 40 x 11 x 4 inches
Manual