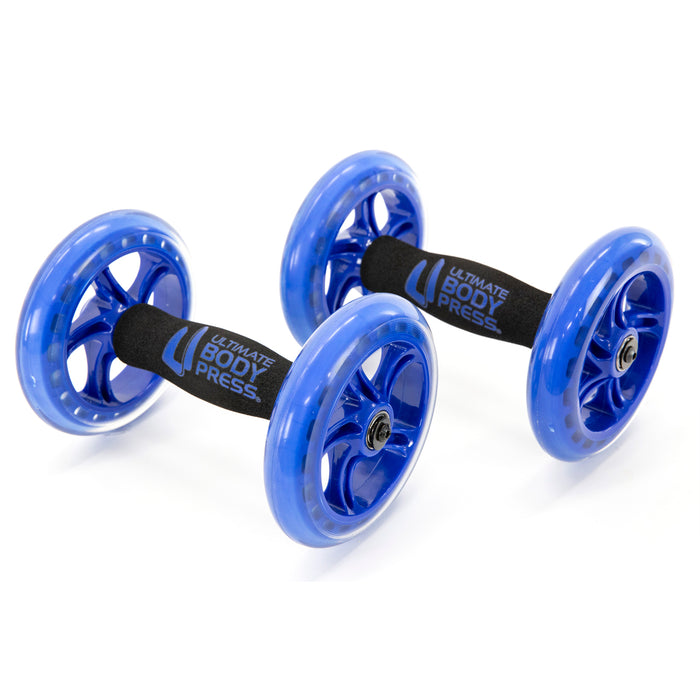 Chest and Ab Wheel Rollers for Fast Upper Body and Abdominal Results
Sold out
Original price
$62.99
-
Original price
$62.99
Ships in 1-2 Business Days
Make it Look Easy
Whether it's for sport, the perfect six-pack, or increased daily performance in your active lifestyle, Ab Wheels get the fastest results for your upper body and core – particularly the difficult to train lower abdominals. Ultimate Body Press Ab Wheels are built the way pros prefer – with independent heavy duty ball bearing wheels that roll smoothly under power and are responsive to your control.
Independent Wheels
Independent wheels let you roll in lines and arcs and support good form by returning to your start point without a fight. The ability to naturally follow your best lines of movement increases variation similar to working out with free weights. Independent wheels also increase the challenge for your forearms and grip effectively building stabilizer muscles with every rep. Ultimate Body Press Ab Wheels feature a deep contour handle with high density foam to support your endurance and results with a perfect blend of give and support.
Build Muscle, Burn Fat
Muscle builds when a contracted muscle lengthens and ab roll outs contract and lengthen nearly every muscle in your upper body. Moving multiple large muscles groups at once spikes you metabolism for maximum fat burning effect. In addition to being a powerful abdominal training tool, Ultimate Body Press Ab Wheels are an advanced push up trainer that not only builds your upper and lower abdominals, but also your chest, back and shoulders.
Designed in the USA
Ultimate Body Press is a North Carolina company committed to delivering better workouts every day. Your purchase includes USA customer service and 30 day 100% satisfaction guarantee
10 Year Limited Warranty
The Wall Mount Pull Up Bar is backed by Ultimate Body Press against manufacturer's defects for 10 years
Details
Sold in Pairs
Foam, nonslip grip for extra comfort
Smooth rolling ball bearings
Light and portable – slips comfortably inside your gym bag
Suitable for both home and commercial use
Simultaneously strengthening abs, back, chest, arms, and shoulders
Tones difficult to target lower abdomen muscles
Weight Capacity: 300 lbs
Shipping Weight: 6 lb
Shipping Dimensions: 2 x 10 x 6 inches